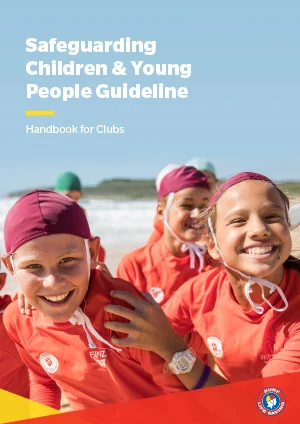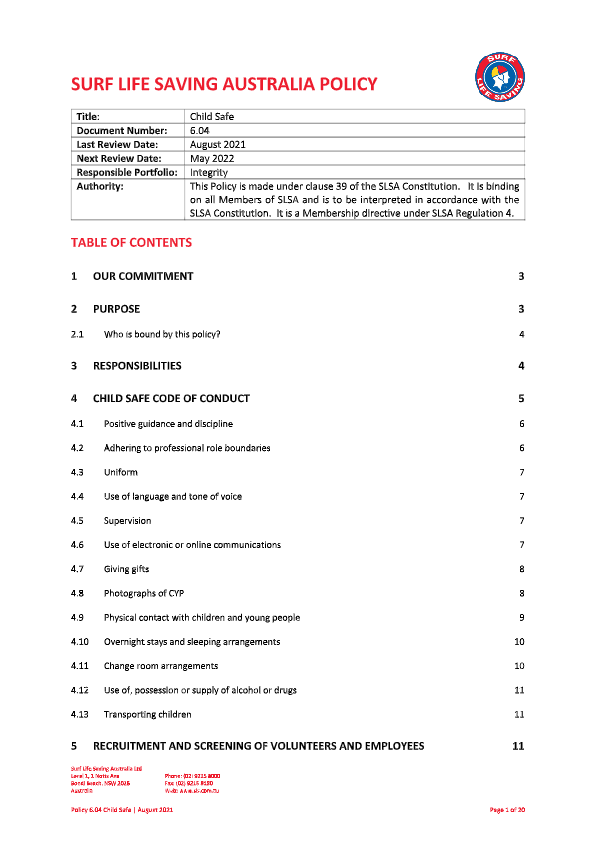 Nippers
SURF LIFE SAVING AUSTRALIA
Child Safe Commitment 
Surf Life Saving Australia (SLSA) and its member organisations comprise an organisation involving Children and Young People (CYP). SLSA operates across Australia and engages CYP through our programs and activities. SLSA takes seriously its responsibility to deliver a safe, fair and inclusive environment for CYP involved in Surf Lifesaving (SLS). We promote equity, respect and diversity by:
• actively anticipating CYP's diverse circumstances and responding effectively to those with additional vulnerabilities;
• providing all CYP access to information, support and reporting processes;
• empowering CYP by giving them a voice and encouraging them to speak up on decisions that affect them;
• creating a fun and positive environment for CYP to be involved in; and
• paying attention to the needs of Aboriginal and Torres Strait Islander CYP, CYP with a disability, CYP who identify as LGBTIQ and CYP from culturally and linguistically diverse backgrounds.
Our Board endorses this commitment to keeping CYP safe from abuse and neglect. Everyone in SLS, from Board to Executives to Staff and Volunteers, is responsible to:
• protect CYP from all forms of abuse, bullying and exploitation by our people;
• be alert to incidents of child abuse and neglect occurring outside of surf lifesaving that may have an impact on the CYP involved in our programs and activities;
• provide CYP with information, support and reporting processes; and
• create and maintain a child safe culture that is understood, endorsed and put into action by all the individuals who work for, volunteer or access our programs and services.
All people within SLS, regardless of role or level of responsibility, must act to keep CYP safe from such harm. They do this by adopting the practices and behaviour we have set as our standard when carrying out their roles, and reporting any concerning behaviours or reasonable belief of abuse or neglect of which they become aware to a Person in Position of Authority and/or to external authorities responsible for child protection or to Police, regardless of whether that abuse is being perpetrated by volunteers or employees within SLS, or by those outside SLS including those from the CYP's family, extended family, their family's extended network or strangers.
Photo Consent Forms – if you haven't already please print off a Photo Consent Form and return it to us on Sunday. It would be great to have more Nippers photos on the website and Facebook.
Nippers needs more Age Group Managers! Current finanical members of the Club should login or create an account at https://sls.com.au/join/ Instructions to access the online course can be found here. Hard copies of the Age Group Managers Guide are available from the Junior Activities Coordinator.
For more information please email info@sussexinletslsc.com.au.
The age for Nippers is 5 to 13 years old. They are put into age groups and work with group leaders. You do not have to live in Sussex to join us, we actually have a few children who holiday regularly here that have joined our Club.
All members 18 years and over have to undergo a working with children check, likewise all parents, as we ask families to help and join in to make it a family day as much as possible, even the smallest contribution is appreciated.
The 5 and 6 year olds work on an educational program whilst the 7 -13 year old strive to gain awards. These award cover many areas , according to age, their Preliminary swim, open water swim, participate in beach events and learn techniques and participate in water events and learn techniques. The Nippers participate in Surf Theory topics appropriate to the age group. These included; Intro to Surf Life saving, Personal Safety, Sun Safety, Surf Safety, Eco Surf (how the environment effects beach life), Surf Conditions and Hazards, Patrols, First Aid, signs and signals, Resuscitation, Rescue techniques, the human body and physical health and wellbeing, interpersonal skills (how to ask for help, and how to help people).  If a child is away, or on regular contact/access visits, that is no problem.  If your child wishes to catch up on their return you only need to notify the Junior Activities Coordinator when they return and they will go over what has been missed.
The Under 8 and Up  Nippers can compete at Carnivals outside the Club within our Branch. These will be advertised beforehand.
Age Managers
To become a qualified Age Manager you must do the following:
Attend an SLSA Age Managers Course Workshop (or complete online in the SLSA members area elearning tab)
Have the SLSA Age Managers Participant Workbook completed and assessed by the course presenter.
Undertake a 2-hour On-The-Beach practical session to gain an introductory understanding of surf skills (at branch/state discretion, this may be waived if the participant has a surf background such as proficient Bronze Medallion).